Caeden is the youngest person to receive Rose of Northamptonshire Award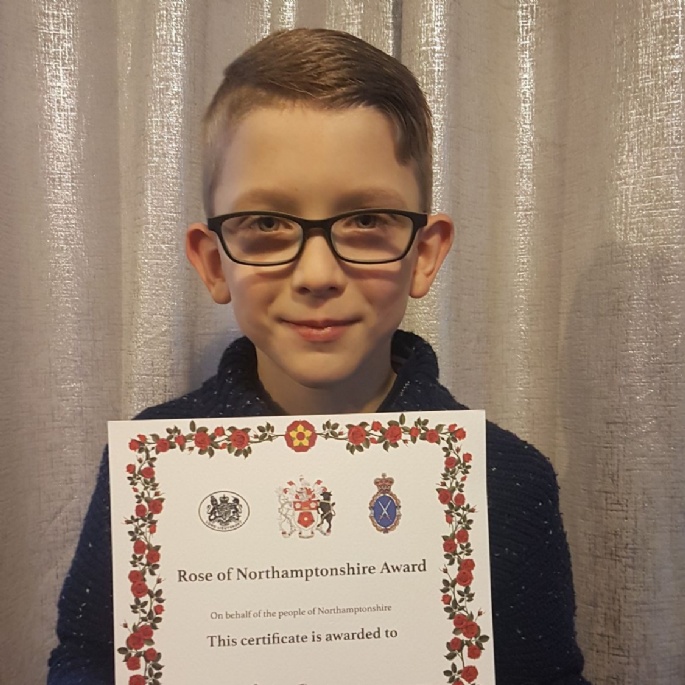 Well done to Beanfield student Caeden Thomson, who has been awarded the Rose of Northamptonshire Award for his amazing charity walk up Ben Nevis which raised nearly £23,000.
Caeden, who has cerebral palsy, is the youngest person to win the award, and it comes after an action packed few months where he trained and did the climb with his family, received an award from the Prime Minister and appeared on television talking about his challenge.
He wanted to help others with his condition by providing much-needed funds for Kettering General Hospital, St Mary's Hospital, Kettering's Sudborough House, and charity Scope and he plans on continuing his fundraising once lockdown eases.
His mum, Lisa, said: 'Caeden is the youngest person to receive this award and he feels very proud! Doing the Nev challenge has made Caeden's confidence grow so much. The fundraising will not stop though as he enjoyed it so much that he wants to keep going and continue to help others. Not only did it help Scope and NHS, it helped us as a family too, to have something positive to focus on throughout the pandemic.
'Caeden's YouTube Channel is doing really well as views are up, one video in particular, of him having his Botox injections, has had almost 200k views! His subscribers are growing every day, and he is feeling so happy. Covid is such a difficult time for everyone, and this seems to have been the thing we have been able to focus on and put our efforts into, and what a great success!'
Well done Caeden!
Mr Reilly also won a Rose of Northamptonshire certificate for his charity work.
To read more click here.