Year 1 and the Owl Man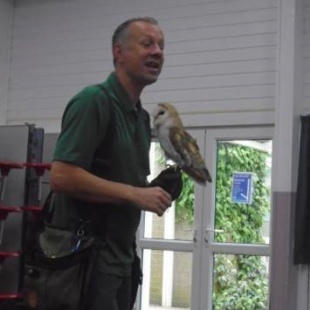 On Friday the 3rd of May Year 1 enjoyed a surprise visit from Dave Sharpe from Raptorxotics.
Year 1 students had the opportunity to see owls in flight and actually get to hold them during a recent visit from Raptor Xotics. Dave Sharpe told students about the birds' behaviour, diet and characteristics and the information will be used in their topic work.
Teacher Natalie Kelly said: 'We kept the visit a surprise from the children and read them different snippets over the week from our owl stories. They went into the hall and Dave had a small owl, Crackerjack, Plop the barn owl, a black kite and Nigel the hawk. It was brilliant. He had the birds flying around and swooping over the children. He was in for an hour and really kept them engaged. They are learning about the animals that are in the UK so we wanted them to get that real life experience. He was talking to them about their diet and different features and that will all be used in our English work. We have been reading "The Owl who is Afraid of the Dark" and "Owl Babies" and we are featuring the owl in our science lessons as well.'
To see more pictures click here.