Caeden awarded by Prime Minister for fundraising walk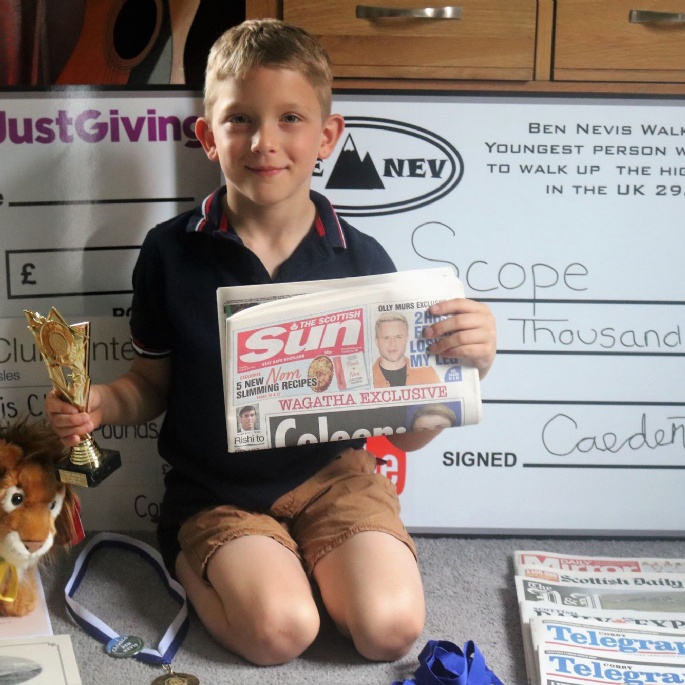 Beanfield student Caeden Thomson has received an award from the Prime Minister and appeared on national media after smashing his charity fundraising target by climbing Ben Nevis.
Seven-year-old Caeden, who has cerebral palsy, initially wanted to raise £8,000, however he has almost trebled that to £22,790. He presented a cheque for £14,000 to SCOPE on World Cerebral Palsy Day and will donate £8,000 to Kettering General Hospital to equip a physiotherapy room specifically for children. Caeden, who was born prematurely, has been treated by the hospital since his family moved to the area in 2018 and has made 'incredible progress'.
The entire walk took thirteen and a half hours and was so arduous that his parents were worried they may have to get him airlifted off the mountain. His fundraising attracted so much media attention that he has appeared in print and on radio and television including the BBC, ITV and Sky News. He also received a personalised message from adventurer, Bear Grylls, when he appeared on the first-ever edition of Steph's Packed Lunch on Channel 4 and he spoke to Eamonn Holmes and Ruth Langsford on a live video-call to This Morning.
Caeden's sister Khya, who is a student at Corby Business Academy and brother Ashton, also from Beanfield Primary School, did the trek with him, along with other family members and his pet dog.
His mum, Lisa said: 'It was a challenge and halfway up it got so much harder and we were worried that Caeden wouldn't be able to finish it. It was so cold and the weather changed by the second as basically you were walking in the cloud.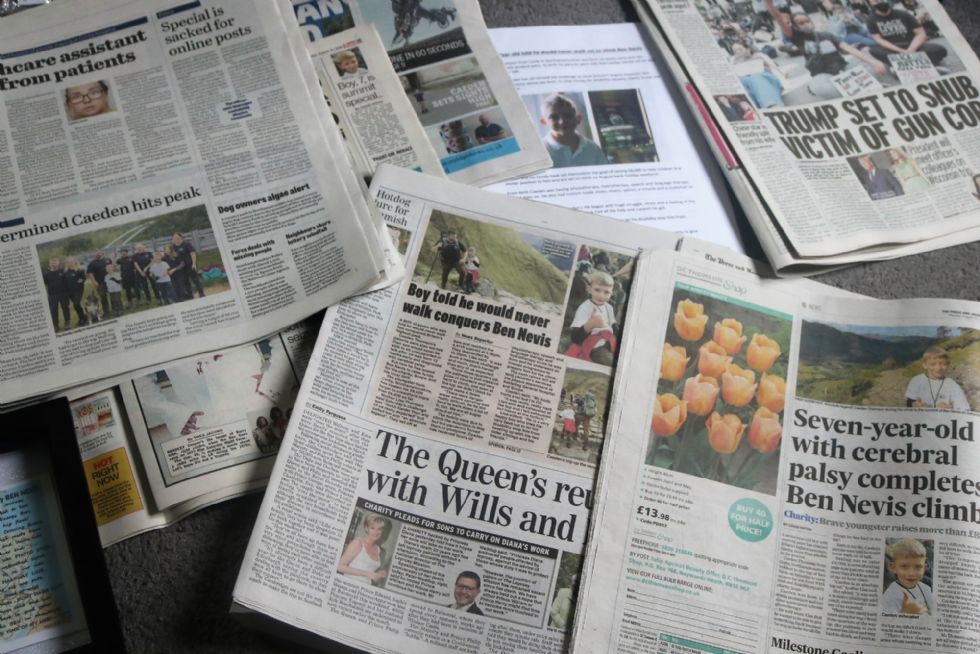 'The story went pretty crazy as it went to the Press Association so lots of national media picked it up. The next day we had a videocall with Good Morning Britain and were live on This Morning with Eamonn and Ruth! Channel 4 wanted to mark Caeden's achievement so he and I appeared on the first episode of Steph's Packed Lunch. It was an amazing day. I didn't tell Caeden it was live! He was so good at it, he takes it all in his stride. They broadcast a personal message to him from Bear Grylls and so he was speechless.'
Recently Caeden has presented £14,000 of the charity total to Scope, the cerebral palsy charity and more cash will be given to Kettering General Hospital and local charity Jorgie's Buddies, as they sent Caeden a bear to encourage him in his quest.
The highest profile accolade however has been the phone call from the Prime Minister's office telling him he had a Points of Light Award. Each weekday the Prime Minister recognises an inspirational person with the Award and Caeden was named on 29 September 2020.
Lisa said: 'Caeden was in disbelief that it was the Prime Minister's office calling! We have put lots about this challenge on YouTube. He is hitting people's hearts as far away as Texas, Mexico and India. People are watching him every day from all over the world! Thanks to everyone who supported his challenge, we have had many people asking us what is next and we are planning something bigger and even more ambitious!'