Mr Reilly awarded Rose of Northamptonshire Certificate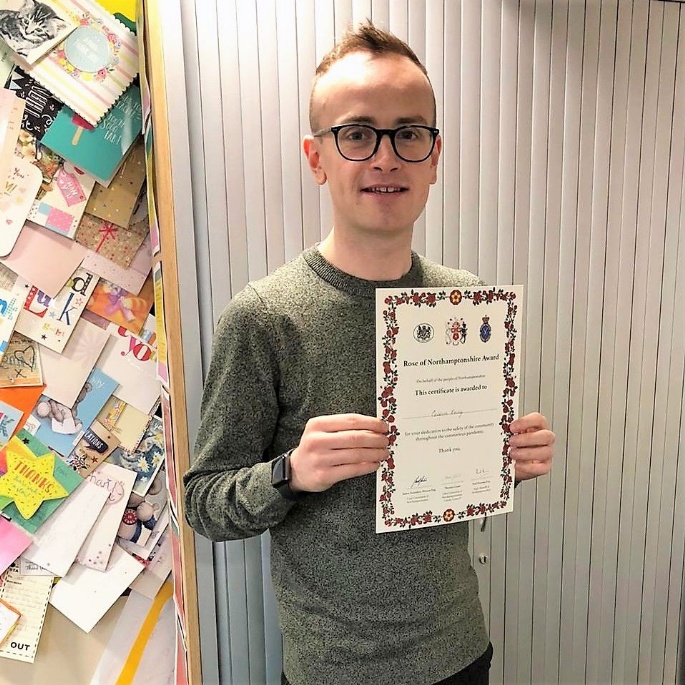 Well done to Education Welfare Officer Callum Reilly who has been awarded The Rose of Northamptonshire certificate for the volunteering he has done for the community in Corby during lockdown.
The Rose of Northamptonshire Awards identifies and expresses thanks to groups and individuals who have worked tirelessly to keep communities safe during the global COVID-19 crisis.
Its website said: 'While the pandemic is still ongoing, the County Council and its Leader, as well as the formal institutions of the High Sherriff's Office and Lord Lieutenancy feel it is important now to recognise that many across the County have committed themselves to response and relief efforts since the beginning of the outbreak. The award will seek to highlight those in every sector and locality of the County that have played a key role.'
The awards ceremony took place via Zoom with delegates including James Saunders Watson, the Lord Lieutenant of Northamptonshire.
Callum said: 'You never do anything like this to get awarded for it, so it was a huge surprise. I heard a few months ago that I had been nominated and we had the awards ceremony online. From March until July I volunteered for a local organisation, Helping Hands, which delivered care packages for people who were isolating or vulnerable. As a group we delivered hundreds of parcels. We would meet and prepare packages and I delivered a minimum of 15 to 20 a week. That was really nice because for some people that was the only contact they had with anyone. Northants County Council put out a call for volunteers so I signed up for that as well so Corby Borough Council contacted me as they needed help delivering leaflets around the town.'
Callum has also set up a community choir, Chordless Corby, two years ago with his Beanfield colleague, Ruth Adams. The choir met weekly on Wednesdays and it now continues meeting online. 'We wanted to get people involved who hadn't done anything like this before. We do a lot of songs that people request and it is a big singalong. It gives people a chance to talk with others, particularly if they are having to self-isolate.'
Between 15 and 20 people now take part each week and pre-lockdown the choir normally had around 60 people attending its face to face sessions at St Ninian's Church Hall. 'We now keep in touch with the choir via social media so they know that we are thinking of them. Any adults can join and the session runs from 7.15 until 8.45. It is all about people having fun and taking away from some of the seriousness of everything else that is going on. Ruth and I will keep it up for as long as people want it.'
A total of £1,200, which has been raised by the choir, has been donated to Lakelands Hospice.
'During the ceremony Mr Saunders Watson asked what has been my most memorable moment, but there have been loads. You never do anything like this to get recognition.. I like to make a difference to people and I always used to do a lot with music and after school clubs. I like to stay busy and it makes you more fulfilled plus it's a great way of socialising with people in the community.'
Edit: Beanfield student Caeden Thomson was also awarded a Rose of Northamptonshire certificate for his fundraising charity walk. To read more click here.